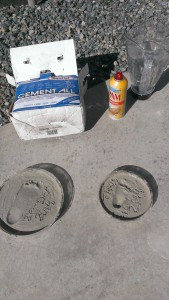 I've been wanting to make feet impressions of Azalea for quite sometime now.  I saw the idea on Pintrest (make-baby-stuff.com/making-stepping-stones.html) and I thought it would be a cute idea for our future steps to the garden area.  Now that we're leaving for 2 years the pressure was really on.  I needed to get those tiny fit in some cement quick, before we go and I loose out on the tiniest feet.
I used the plastic trays for catching water under plant pots, sprayed a coat of PAM on each one and quick dry cement.  It was easier than expected and turned out great!  I fudged the date slightly so I'd have something from 2014. : )
Previously I purchased quick dry concrete and the large gravel makes it impossible to get a clean impression, so if you decide to do this, make sure you buy cement.