I'm writing this post the afternoon of the morning my friends departed…perhaps not enough time to reflect on their trip, but with events still fresh I'm going to give it a go.
First off, I must mention the overwhelming emotion that invaded my body at first sight of my friend Carly and her youngest daughter, Willow, skipping towards me outside their hotel.  I knew I missed my friends, but it wasn't until the echos of my sobs rang through my ears and I felt my body involuntarily convulsing with each out take of breath, that I realized how much I need my friends. Our daughters too ran for each other and embraced in a heartfelt, tender hug.
The first afternoon my husband and I decided we'd take them to lunch at a beautiful restaurant, El Timón, on the bay. Its a great restaurant to showcase the beauty of San Juan del Sur.  Azalea was a great hostess and after lunch showed the girls just how we do it in Nicaragua.
After skipping naps we ended the evening by ordering pizza from Don Mochis for delivery and enjoying their air conditioned hotel.  Azalea was already comfortable again with old friends so she got to have her first friend sleep over.  I'm so proud of her for sleeping through the night and not crying for "Mommy" in the morning. She's growing up so fast!
The next day was Friday and Kharron had to work, so after a relaxing morning I packed everyone into our car and headed to the beach.  I decided Romanzo would be a good choice since it is fairly close to my house. I had asked Juanita to cook arroz con pollo for lunch, a cheap, but delicious dish that the whole family enjoys. We had a great time enjoying the beach, but the waves weren't big enough to try surfing. After lunch it was nap time for all!
Our friend, Sean, has a home up on the hill overlooking the bay so we decided to watch the sunset from there while introducing street food to our friends.  We got a selection of meat: chicken, pork, and beef with sides of fried plantains, frijoles molida (mashed black beans), and gallo pinto (beans and rice).  Sean also has a pool of course, so the kids did some more swimming.
On Saturday my husband, Kharron, was off work, so after a traditional breakfast in the mercardo, we all got to enjoy the pool at Villas de Palermo, where our friends were staying. That night we had arranged for two nannies to come and babysit the kids while the adults enjoyed full-sentenced conversations. We barely made it to sunset at HulaKai Hotel, but as usual were stunned by the beauty of Nicaragua. Next we took them to a restaurant we recently discovered called El Jardin.  The food and wine selection is fabulous there.  It is not traditional Nicaraguan food, but the change of menu is welcomed. Of course we ended the night in town at Republika Bar for one last night cap.  I hope our friends enjoyed the evening together as much as we did!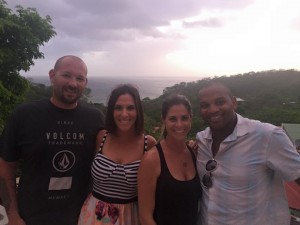 On Monday Willow went to school with Azalea at San Juan del Sur Day School for the morning and the rest of their family had fun zip lining at Parque de Aventuras.  Then after naps that afternoon we all went to Surf Ranch for a swim, drinks, and a snack.
Tuesday was Nicaragua's Father's Day and Kharron took the day off work. We decided to be a little more adventurous and go see Laguna de Apoyo.  It's an imploded volcano that created a crater and has filled with water.  The pictures are breathtaking and we've been wanting to go. The men used this opportunity to go on a motorcycle ride and the women & kids followed in our car. Unfortunately we made the mistake of inputting "Laguna de Apoyo" in Google Maps instead of one of the hotels along one section of the shore.  We ended up over shooting our turn off the highway and caravaning through the busy streets of Granada's mercado.  We asked locals how to get to "Laguna de Apoyo" and found ourselves at its edge on the opposite side of the hotels.  Foolishly, we took the dirt roads around the lake to finally reach our destination tired, dirty, & grumpy. The kids were starving, moms were fed up with wining, and the dad's bottoms hurt. BUT the views were striking!
On the last full day of their trip we went to what I think is the most beautiful beach in San Juan del Sur, Playa Hermosa.  It costs US $3 to enter, but once through the long dirt road there are bathrooms, fresh water showers, palapas with hammocks, and a restaurant that doesn't completely gouge you on prices. It is always very tranquil at Playa Hermosa.  It was a great day spent relaxing, collecting shells, and enjoying the warm ocean water.  We also rented a couple boogie boards for $8 each for the kids to try.  We got home that late afternoon and cleaned off in Villas de Palermo pool (shhh…) Kharron met us after work and we spent the evening ordering room service and letting the kids play.

It was great having our friends here and we feel so lucky to have friends willing to make the long trek just to see us.  I know Nicaragua was never on their radar of places to visit, but I hope they found it as beautiful and interesting as we do.
Char asked me while driving someplace, "Before you moved, did you know people wouldn't have doors and stuff?"  I tried to explain to her that yes, I did.  That Kharron and I had chosen to move here because America was very expensive and in this country I didn't have to work to afford to live.
I think travel is so important (obviously) for everyone and especially as children.  If nothing else, a "first world" country kid can get a glimpse of how other people live.  Maybe they see the smile on kid's face as he peaks through the doorway while standing on a dirt floor or hears the roar of laughter coming out of a group of children playing with sticks, a little girls giggle of delight while dressed up in a torn and dirty princess dress, or a little boy's confidence as he herds a pack of sheep down the road, the laughter from a family sitting outside their shack of a home as they enjoy the evening and each other. Maybe that child just for a second can see that life is not about all the gadgets and screen time, it's about the love we have for each other and this one life we have to live.  I am glad our friends are among the parents that get the importance of these lessons.