Our friends had a vacation to Monteverde booked and their United States friends ended up not being able to go, so they invited us! We jumped at the chance to take a vacation to a part of Costa Rica we had heard was magical. Monteverde is in the cloud forests in the northwestern part of Costa Rica. It is known as the birth place of zip lining, or canopy tours as Costa Rica and Nicaragua call it. It seems like most places also have suspension bridges, Tarzan swings, and bird watching trails as well.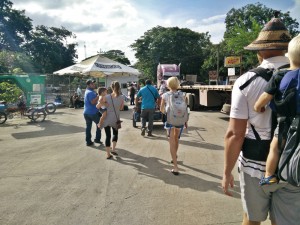 We hired a van to take us to the boarder and then rented a car through Alamo on the other side of the boarder in Costa Rica. We had a lot of stuff and were worried about carrying it all the way through, but luckily they had guys with carts waiting right at the entrance to the boarder so we didn't have to carry much ourselves. We paid them about $8 since it ended up being two guys who had to pass our luggage cart once entering the next country.
We stopped at the Africa Safari Adventure Park on the way, which ended up being a great stop for everyone and since is was almost halfway through our travel day, a good break.
About an hour before Monteverde the roads got pretty bad. Very bumpy. We even pulled over once thinking we had a flat! It was getting dark and rainy so the last hour wasn't a pleasant drive.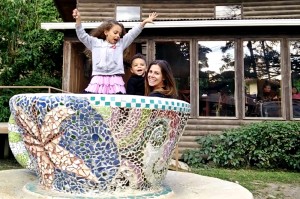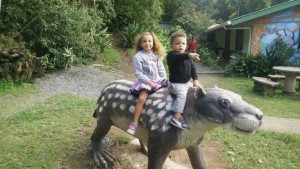 Our friends had rented a house and it ended up being in a great location. We could walk down to a coffee shop called Stella's Bakery, a place called Whole Foods (no, not that Whole Foods), and there was a little park with statues the kids could climb on. It was only a 10 minute drive to the main town of Santa Elena and about 20 minutes to most of the zip lining places.
The first night we ate at a far too fancy Italian place called Tramonti. They had a lot of glass & knives pre-set on the table and did not give off a kid-friendly vibe. My mushroom pasta was delicious though! After dinner we stopped by a market for a couple items and then headed back to our house.
Even though it was quite windy and cold the first day, we decided to go to Sky Adventures and do the suspension bridges. We were worried that the conditions would be worse the next day. Kharron doesn't own a jacket, so after eating breakfast at the house we went into town to find some rain coats and parkas.
Sky Adventures was really fun. We did a small loop on the suspension bridge before our reservation on the gondola/Sky Tram ride up to the top of the mountain. It was truly freezing up there, so while the ride was neat, the visibility was lacking and the weather made it barely enjoyable. We drove into town for a substantial lunch at Treehouse Restaurante & Cafe and then went back to Sky to do a larger loop on the suspension bridges.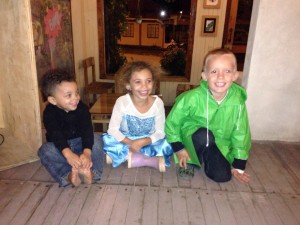 That night we thought it would be easier to pick up to-go food from Monteverde Beer House, but it took awhile to get our order and didn't make for great to-go food as the name would suggest.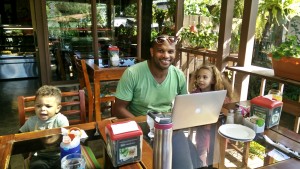 The next day ended up being beautiful and our friend Jason and their son Brooks wanted to go zip lining. We first went out to a delicious breakfast at Cafe Orchid Coffee Shop while Kharron tried to get some work done. Then went back to the house for some relaxation. After all of us ate large burritos at Taco Taco, we dropped Jason & Brooks off at Selvatura Park and went back to the house for naps for the little ones. When we picked them up they had had a blast. A couple of the zip lines were really long, the longest being 1000 meters!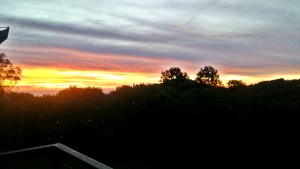 On our last night Kharron made us an amazing beef straganoff dinner. It was nice and cozy in the house and we all had fun playing around. After the kids went to bed the adults played a short game of Heads Up before calling it a night.
The next morning we ate a quick breakfast at home and were on the road by 7am. A hurricane was approaching the east coast of Costa Rica and Nicaragua and we wanted to make it back through the boarder before the heavy rains started. We all made pretty good time and drove straight through except for a quick lunch stop at a fried chicken restaurant that had a kids play area. Returning the car and getting through the boarder was quick. It helps to have kids because you get to cut the line.
We really like traveling with this family. They have a similar schedule and same pace of day. Sharing a home is family friendly and fun. The kids are close in ages so everyone has a friend. Azalea plays very well with Brooks (usually) and it is adorable watching them together. I'm sad to say that they have decided to move back to New Mexico earlier than planned. We are truly going to miss them.