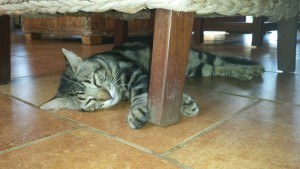 The Reid Dynasty
Kharron: A software developer who makes geek look chic.  Grew up in Bloomfield Hills, Michigan and went to college at Boston University. Kharron loves everything technology including building phone applications for fun, writing software to make the chicken coop door automatic, and working at his San Franciscan based marketing company.
Jenna: Psychology major turned mortgage company Account Executive looking to find her dream job during this life adventure.  Grew up in the mountains of Santa Cruz, California where everyone recycles and thinks of earth first.  Jenna enjoys giving back to the community and raising environmentally conscious children.
Azalea: Otherwise known as Ze or Woo, born January 19, 2012.  We like to call her spicy, this girl can throw some 3 year old attitude.  Not only is she beautiful, she's hilarious and can talk more than a teenage girl on the phone.
Titus: "Little Man" was born October 5, 2014.  So far he likes, breast milk, his amazing sister, Mommy, Mommy, and Mommy.  Sometimes he does offer his other roommate "Daddy" a smile.
Rigley: Part boarder collie & part mutt, Rigley is our athlete.  He would leap tall buildings for a Frisbee or a ball. We picked him up from an animal shelter while on a road trip a few years ago.
Tasha: Her majesty was a packaged deal with Jenna.  She's a sensitive girl who loves her food and would weigh 300 lbs if we let her.
Bala: Adopted after our move to Nicaragua to ward off mice.  This cat will eat an entire gecko. We recently found the remains of a rat head and intestines on our patio. He is now the ruler of the animals and enjoys swiping at Tasha just for fun.
So why on earth would we move this Fabulous Four +2 to another country? We decided to move abroad for many reasons; the chance to learn Spanish, get out of the American rat race, expose ourselves and children to a different culture and simpler way of life, and for the adventure. We could feel our family becoming consumers and forgetting what was important in life and began to realize time wise, we were in the sweet spot.  Jenna's income was decreasing with the rise in mortgage rates, Kharron was already working remotely, and the kids weren't in school yet.  If we just went for a couple years we could put our life in the States on hold.  We could come back in time for Ze to start kindergarten and Titus to go to the preschool up the street.  We would have a strong knowledge of Spanish and Jenna might find a new career path that better aligns with who she is as a person.
Travel is very important to us.  Jenna traveled extensively growing up and with friends after college and Kharron has always had aspirations to see the world.  When we dated we often talked about moving abroad for a few years…we didn't realize then, that we'd be doing it with two kids.
We've decided to take the road less traveled by, it could make all the difference.