Trials and Errors of Construction
The first part of our construction went surprisingly well. We live down the street from where we are building, so we were able to check out the progress on our home daily. We were often surprised at how knowledgeable our contractor was and we started to stop second guessing him. Maybe this was our demise, but we've never built a house before, so some of the things we are finding that were done incorrectly is stuff we would have never thought to research.
Polished Concrete Floors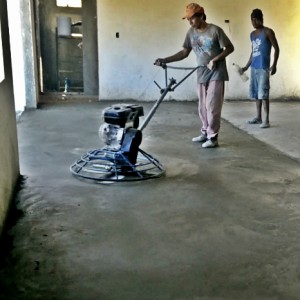 It all started here. We had been in search of someone able to make a smooth concrete floor for us when our contractor told us he knew how to do it and gave us a great price for the job. The next day when we went by the property he was already pouring half of the main room in an L shape. My husband, Kharron, had done some research and knew we needed metal within the concrete so that it wouldn't have cracks. We were immediately worried that there was no rebar below what they had poured. Our contractor assured us there was, but the next day when they were pouring the other half of the main room, Kharron heard the guy assigned to created the wire mesh asking questions about his task. Perhaps there was no metal below the first pour?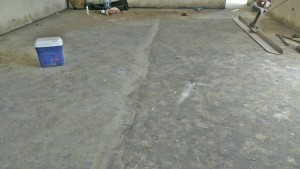 When we went out the following day the main room and two of the bedrooms had been completed. There was a very obvious line between the two parts in the main room. Our contractor told us that it was only because of the difference in time of drying, but it wasn't the color that was the problem. After about a week and all the floor was complete that line began to crack, as well as other parts of the floor. The cracks were small, and only surface level, but my fear is that people would see the cracks and think that they were a foundation problem.
Roofing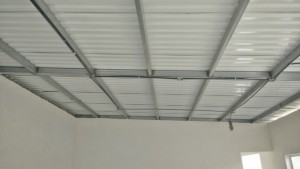 We brought our friend who is a contractor out to see our progress and he immediately told us that our floor was done incorrectly. It was a very windy day and some of the gusts would lift our zinc roof up slightly. After further inspection our friend told us that a cheaper, thinner roof and beams were used. He explained that it is okay to use those materials, but the beams then need to be closer together. As the zinc moves with the wind, the screws holding it down will loosen. This was pretty upsetting to hear. A leaky roof is not something we want for our future home and rental. We started to film the movement so we could question our contractor, when suddenly he pulled up in his truck. The workers had obviously let him know that someone was looking at his work and that he should come to the property. Our friend and he argued a little and it was decided that we should have a 3rd party engineer come and inspect the construction.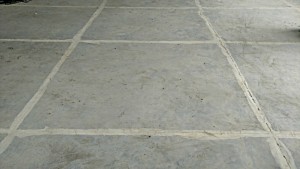 We found someone we felt qualified to assess the work and a price we could afford and are very happy we did. Before we knew it, lines were being cut into our flooring to give it more room to move with the ground and we had decided our type of soil was no place for a smooth cement floor and ceramic tile was a better option. Beams got added to our roof without us having to ask and all of the work the engineer requested was completed.
Electrical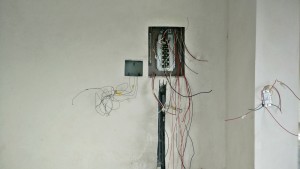 We had heard that its cheaper and better to break up the finishings of the house to different contractors, so we had hired our initial contractor only to do "grey labor" which includes the floor, walls, roof, sewer, and electrical tubing. We were going to hire someone else to actually wire our home to make sure we had a qualified electrician do the job. After interviewing several Nicaraguans and feeling less than satisfied with their abilities, we found  a qualified Gringo to do the work. The Gringo pay rate is out of our budget, so we worked out a deal where we would pay him hourly. In order for him to work less hours, he would teach us how to do each part and make sure it was done correctly after it was completed. Immediately when he, Kharron, and our cuidador started to pull wires through the tubing, they realized that a lot of the tubes were too flimsy and kinked for the wires to be able to be pulled through. Electrical cables got stuck in the tubing underground and the metal wires the contractor had in place to attached the cables to disconnected within the walls. We had to make the decision to either rip up the floor or cut into the walls to install new tubing with cables. We decided up was the best way to go.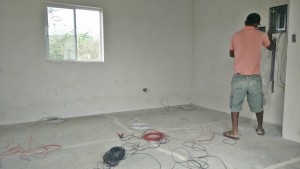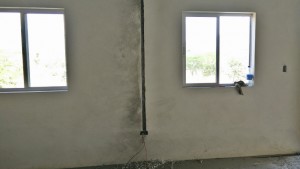 We spent weeks redoing the tubing and demolishing our walls so that the electrical was done correctly. Since we had the saw, some of the tubes that came out low on our wall and would be a problem once we did the ceiling, were moved to the correct location as well.
We've had a lot of hard lessons so far. Kharron especially learned a lot during this phase. We now know why most of the cement floors we see here in Nicaragua have cracks and that those are only the surface layer. We learned there are different grades of zinc roofing and support beams and it is important to double check once your contractor has purchased these items. We also know what to look for when installing electrical tubing and how electrical wiring works. We still have a ton of projects left, which is why I'm titling this Part I.