Christmas time in Nicaragua is a lot of fun. We've spent the last 3 in San Juan del Sur and wouldn't change it for paying the expensive airfare to go back to California and be part of the typical American Christmas hustle that no one even seems to enjoy. When I speak with my friends back in the States around Christmas time they sound exhausted. All the parties, family visits, and pressure to get the overpriced "it" toy overwhelms the joy of Christmas.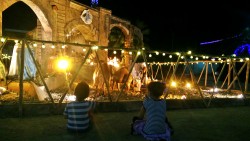 The Christmas spirit is alive and well in Nicaragua. The first sign that Christmas is coming is the lights go up in the central park. The nativity scene is built and Santa can be seen meandering around for photo opportunities, along with his hat-peddling Elf. This year there were coin operated rides as well as a man with a bike who pulled train-like carts.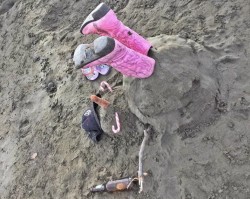 Every year Elisha & Gord from In Nica Now host a Sandman competition. This event is great fun for both kids and adults. There is a panel of judges and prizes are given out.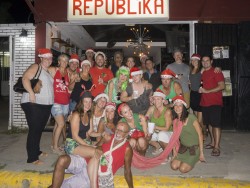 They also host an event, 12 Pubs of Christmas SJDS. This year it was the 4th annual and I heard it was a blast. It starts at 1 pm and the goal is to do 1 pub an hour. Those who show up late, can show up at the designated pub for that hour. My husband and I have never attended for fear of the recovery, but from what I am told, much fun is had.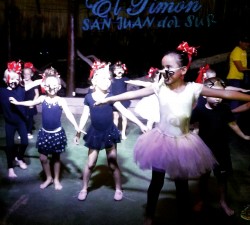 My daughter takes dance classes at MÚÚV Dance & Yoga. Last year the kid & adult students put together a dance recital. It was so fun to watch. The smaller kids had a Nutcracker theme and had little mouse noses. Tourists and locals got to enjoy this amazing show at the popular restaurant on the beach El Timon.
Last year some of the moms in San Juan del Sur started a tradition by going to see the Nutcracker at the theater in Managua. Its a one night show, so there's a bit of a scramble to make sure we know what day it is on and get tickets right away. It is such a fun tradition getting all dressed up, going to dinner, seeing the show, then taking over a hotel and playing until late at night.
I've helped organize Santa coming to town for the last 3 years. He comes to a restaurant on the beach, which makes for a great photo backdrop. We're very lucky to have Ralph & his wife in our community who volunteer not only for our Santa, but for other events around San Juan del Sur. They put on quite a show with music and dancing. One of the photographers in our town takes the photos for us.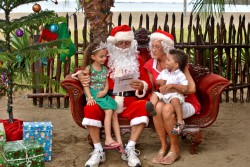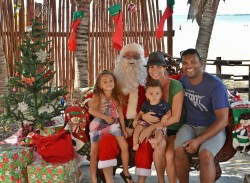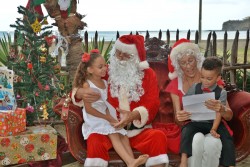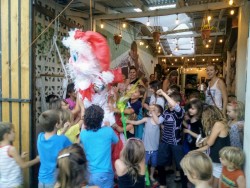 The last event of the season is always the Christmas Cookie Decorating Party. In the years past it was held at Gato Negro, an amazing breakfast and coffee shop that unfortunately closed down this year. Lucky for us The Art Warehouse stepped in and carried on this tradition. For only $C10 (about $.30) you can buy a sugar cookie for the kids to decorate. Its a great event to mingle and enjoy the jolly Christmas vibes. This year there was even a Santa piñata that was a huge hit for the kids!
Christmas day for my family is usually very relaxing. We spend the morning unwrapping presents, putting toys together, and playing with all the new gear. Last year Azalea got a bike and we practice her riding it. This year Titus got his own scooter, so the kids enjoyed racing around the house all morning. Last year in the afternoon we had an amazing time on our friend's boat, which sadly fell victim to Hurricane Nate and still lays on the beach in town. This year we spent Christmas with a small group of friends and their families. The kids had a blast playing while the adults enjoyed a relaxing afternoon with no pressure.
I really do enjoy the holiday season here. There is so little pressure to "keep up with the Joneses". I decorate our small fake tree, go to a potluck dinner, and enjoy my family and friends – just like the Nicaraguan's do.