We're starting to feel pretty settled in our routine here, so I thought I'd write about what a typical week day is like for us living in San Juan del Sur.
The kids have both been waking up pretty early and there aren't many roosters around our home to blame it on.  It seems Azalea or Titus wake up between 5:30-6am every day.  It only takes minutes after one rises, for the other to wake as well. If Titus is the first, I like to enjoy a little bit of quiet play with him in our bed.  He sleeps in a Pack 'n Play in our room so I let him wrestle around for a while before picking him up and bringing him in bed.  We usually only get about 5 minutes of quiet time before Azalea comes knocking on the bedroom door.  If Azalea is the first to rise, her loud knock will usually wake up Titus, but if not, it is her morning mission to make sure everyone else is awake in the house. Kharron is an early riser and uses the quiet mornings to get work done, so he can be found at the kitchen table on his computer every morning, including weekends.
I'm not sure what to do with kids this early in the morning and before I've had my coffee so I fumble with blurry, sleepy eyes to start a show on the TV.  Some of Azalea's favorites right now are Annie, Finding Nemo, Curious George, Horton Hears a Who, and Dora the Explorer. Once I have her crazy morning energy lassoed to the TV I open up the home's accordion patio doors so the dogs can go outside and Tasha can go visit her "friends".  Rigley with his broken arm, gets leashed to the large wood picnic-style table on our patio so he doesn't go too far and re-injure himself…again.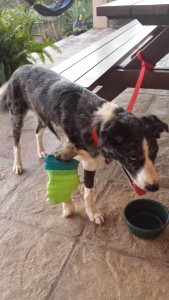 I either hand Titus off to Kharron or put him in his jumpy that came in our box.  The dogs water usually needs to be refilled, coffee gets made, Titus' diaper gets changed, and Azalea's initial hurricane gets cleaned. With a cup of coffee in my hand I nestle on the couch next to Azalea, nurse Titus, and enjoy the slow trickle of caffeine processing in my body.
On a typical day the family all has breakfast together.  We may not all eat the same thing, but everyone sits at the table at the same time. Azalea has been eating A LOT of watermelon as well as peanut butter (with no jelly) sandwiches.  Eggs are also popular for breakfast.  I like to make a smoothie with all the fresh cut fruit Juanita has prepared or have fruit with yogurt and granola. Titus usually has some sort of fruit or ground oatmeal (avena molida) with yogurt.  At breakfast Kharron and I discuss the plans for the day or things that need to get done, while Azalea continuously interjects with silly behavior.
After everyone has eaten and gotten their pjs dirty, it is time to dress for the day.  I distract Azalea by letting her pick out what she wants to wear to school while I choose my own outfit.  I've learned a trick of putting Titus on a towel in the bathroom sink while I do my hair and make-up.  The toothpaste is usually distraction enough for a quick application. My hair lives in a ponytail because its too hot for anything else and my creativity runs low in the morning.
Kharron departs for work during this part of the morning routine.  He has an office in town where there is less distraction and he can focus on his job… our only source of income. We all give Daddy kisses and watch him climb on his moto and zoom away. Its about this time too that our pool/gardener arrives. We all acknowledge him with an, "Hola Chilo" and carry on with our morning tasks.
Once I am dressed I focus on Azalea, helping her put on the outfit she's chosen or trying to steer her in a different direction.  She really only wants to wear three things right now – a brick orange flowered long sleeve dress, her long sleeved Elsa princess dress, or her long sleeve white cotton dress.  Juanita is so efficient that at least two of these options is always clean, but its hot and I don't want her wearing the same thing everyday so this usually becomes our first battle. After the tears have dried, I manage to style Azalea's beautiful curly hair in front of the TV while Titus is on the floor next to me playing with some toys.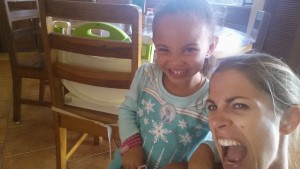 As I'm just finishing my hair masterpiece, I hear the single beep of Juanita's family moto notifying us of her arrival and Juanita comes through the front door with a, "Buenos dias." She picks up Titus and I'm able to race around the house putting Azalea's second storm away, applying sunblock to everyone, and making sure Azalea has a change of clothes, hat, and extra sunblock (and nothing else) in her backpack.  Juanita keeps Titus while I drive Azalea to school.  She likes the music blasting and all windows down except her's because it blows her hair too much. Azalea's school starts between 8-8:30am and I take my time dropping her off.  Its nice to have this time with her without juggling Titus on my hip. We say hello to the teachers and Julie, the director.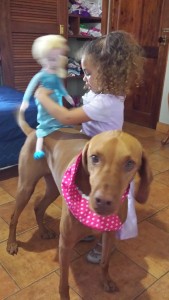 I go straight home and if Titus isn't already asleep by the time I get there, then I nurse him to sleep for his first nap. Juanita has been making him a bottle or juice from an orange mixed with water.  She rocks him in the hammock to try to get him down for his nap while I am driving Azalea to school.  After he is down I am free to try to converse with Juanita via my crutch, Google Translate.  If we didn't shop for the week on Monday, then we talk about whether I'd like her to cook lunch and/or dinner that day and if we need anything from the store.  I'm just starting to feel more comfortable with opening our conversations up to topics of life outside our home.  Kharron and I have been trying to learn past tense and these moments with Juanita are like a daily Spanish lesson.  She is very patient with us – politely correcting the pronunciation, accent, or gender of a word when necessary.  She also gives a kind nod when we have said something correctly.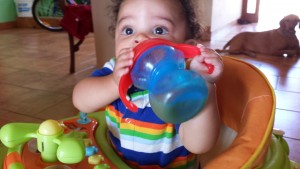 While Titus has his long morning nap I spend my time blogging, researching hotels, what is necessary for VISA renewal, scrolling Facebook for what's happening in our home town, San Juan del Sur, or Nicaragua, text with friends, or do all those little computer busy work I didn't have time to do while living in the States.  When we first moved in we had cable, but it never really worked so we cancelled Claro and were going to use a new company called Sky, but haven't gotten around to it yet.  I'm not sure that I want to add it.  I'm sure I would be much less productive during these nap times if I had the option to space out in front of the TV.
Once Titus is awake I nurse him again while reading my latest book on my Kindle.  Then we usually head out to town to go buy bread at the paneria, fresh fish at the acopia, eggs or water at a pulperia, or say hello to our friends at one of the shops.  Its nice to stroll around the town with Titus happily dangling in the Ergo carrier.  Azalea gets out of school at noon, so Titus and I head over there from town.
We are always greeted by Azalea with a shrill of happiness.  We take our time collecting her art work, backpack, and shoes and say "Hasta luego" to her teachers and friends. On the way home we talk about what her favorite part of school was.  She doesn't quite get this conversation and she usually says something that doesn't really make sense or happened on a different day, but I figure its good practice.
Once home, Juanita is finishing up lunch and daddy is home sitting at the kitchen table.  We all enjoy lunch together (chicken, fish, or pork with cabbage salad, beans, rice, or plantains. If she doesn't have too much to do, Juanita will feed Titus so I am free to eat lunch and enjoy the conversation with my family.  We've come to realize that Juanita is very funny, so there's a lot of really bad Spanish and big laughs during lunch.
After lunch Azalea gets to watch a show on TV and Daddy goes back to the office.  Azalea's been pretty good about her naps so after about 20-30 minutes of TV she's ready for bed.  She likes to get in pjs for naps and that is always a process.  I turn on the A/C and if Titus allows for it, I read her a quick book.  Once she's down I nurse Titus and hope for the simultaneous nap. I've been pretty lucky these last couple weeks!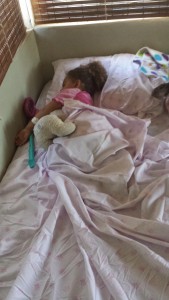 On Tuesday & Thursdays I volunteer at Barrio La Planta Project 2-4:30pm with the Kindergartner classes.  If all goes well, I leave 2 sleeping kids in Juanita's care.  I have to admit, on the other days of the week I usually read myself into a nap.  I don't know if its the heat or the the energy it takes to live and communicate in a foreign land, but I am really tired here.  If Titus doesn't nap when Azalea does, we dip our feet in the pool or go for a swim.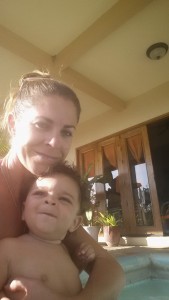 Once everyone is awake we relax a little, go for a swim, go to the park, get some ice cream, or meet up with friends.
My favorite part of the day is when Daddy gets home from work. Juanita makes dinner for us about 3-4 times per week, so the early evenings aren't spent with one of us preparing dinner while the other entertains the kids. Azalea has been loving an early evening swim with her daddy or some days we take Tasha & the kids to the beach for sunset.  On the nights Juanita hasn't cooked, Kharron will cook, or we pick up "street food", or meet friends at a restaurant.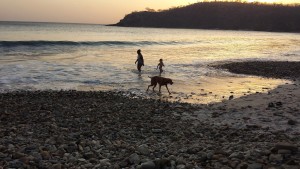 After dinner I shower with Azalea and bathe Titus in his little tub.  Everyone gets in their pjs and sprayed with bug spray.  We put on one of Azalea's programs and I nurse Titus to sleep.  Titus has been going to bed around 6:30/7pm.  We spend some time alone with Azalea before corralling her to her room for 3 books and some cuddles.  Her bedtime is about 8pm.  Lately after books and I've switched off the lights, we've been discussing our favorite part of the day.  Its been really fun to hear what she has to say and share with her what made me happy that day.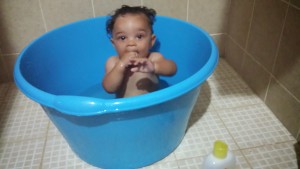 Its not long after the kids are in bed that I too retreat to our air conditioned bedroom to read and fall asleep.  Titus has been only waking up once to eat in the middle of the night, so my sleep has recently gotten less interrupted.  Someday soon we will probably move his Pack 'n Play into Azalea's bedroom.  Kharron again uses the quiet nights to get work done and enjoy the solitude.
We have a peaceful life here in Nicaragua.