A Hen in the Wolf House
First off, I love having chickens. I grew up always having at least 5 chickens. As an adult, at our house in California, we had chickens before we moved to Nicaragua. Any excuse I can come up with to own chickens, I'll use it.
So since we have property with plenty of bugs, I decided we MUST have chickens grazing on it. It would give us something to visit on the property each day, good nature lesson for the kids as they laid eggs and created chicks, and I'd get to own chickens!
We started asking around where we live and quickly found out that we needed to go further away from town, "el campo" where people have more land, and therefore enough chickens to afford to sell some. We also learned that it being November which is close to December & Christmas, that the price of a chicken was going up. We decided to make a trip to "el campo" after our car was fixed.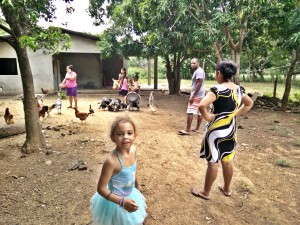 Since I love having chickens, the weekend after we got our car back we took Juanita to "el campo" to look for chickens for sale. We had to ask several houses and kept hearing about a person who had "bastante gallinas" (a lot of hens). When we turned the corner on the dirt road, we knew we had found the right place.
Even though the woman had "bastante gallinas" she was not thrilled about selling some. Juanita & her spoke and she started rounding them up to pick out 4 hens. We put our chickens into a large dog crate in the car, buckled up, turned the key and the car wouldn't start!
Our battery had been acting a little funny, but we were in "el campo" we can't be stuck! The look on Juanita's face said the same thing. After waiting and trying a couple more times, Juanita, Kharron, and a helpful gentleman pushed the car down the slope while I tried to get the car to start. I didn't realize you needed to have the car in 1st gear, so with Kharron at the wheel and Juanita & I pushing down hill the car revved to life and I literally jumped for joy.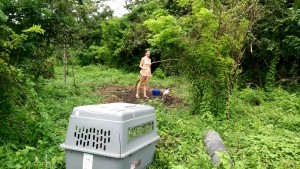 That night the chickens slept in the dog crate at our house. The next morning after jumping our car to start, we went out to the property to release them. Kharron left me alone in the drizzle with the crate of chickens, some chicken wire, and a machete while he went to buy a new battery for our car. I developed a game plan, spread some feed on the ground, filled a water bowl, and opened the door of the crate. Almost instantly one of the chickens had a scorpion in her beak. I was so proud and happy to have my girls cleaning the property.
I propped a large branch from the ground against the sturdiest tree I could find. While the hens picked around their new land I used the string that held the chicken wire in a roll to make the best coop I could for the night. I hoped that our day laborer, Manuel, could make something better the next day.
The next morning when Kharron went to the property we were already down one chicken. The other 3 had found a larger tree off the property to perch in. Our workers digging the well & Manuel kept telling Kharron how sad & scared the hens were to be left alone on the property. We had no idea Nicaraguans cared so much about their chickens! That day 2 more fled up the hill and off our property, so we were left with only one and by then I surrendered that the chickens indeed did not belong on the property yet. We caught the one and brought it to Manuel's dad's house down the street.
This morning I was hopeful that Kharron would find more, happily grazing on our property again, but there was no sign of their return. I am happy to report that one hen did show up later this morning and is now safely at another home with her sister-hen.