2 Large Dogs, Will Travel
Getting the dogs to Nicaragua was a task. Probably more our fault than anything.  We made several mistakes which ended up costing us time and money, but at least we made the rabies vaccine appointment on time!
1. Booked our flight to Nicaragua to arrive during the weekend.  – Dogs are not shipped via United Airlines PetSafe program on the weekend.
When I was looking at the flight options and deciding when and from which airport it was best to depart from, I noticed that all the flights out of San Diego arrived into Managua at 9:30pm.  I had read conflicting information about whether customs was open after 5pm, so I didn't want the dogs and us arriving that late.  I also thought we had so much baggage, etc that I'd rather hassle with it in the light of day. Flights out of Los Angeles had a red eye option arriving at about 12:30pm.  Los Angeles was more of a drive, but I didn't feel like we had another option.
I finally booked our tickets and then right away called the PetSafe department to book the dogs on the same flight.  I was told right away that dogs aren't transported on the weekends and that they could fly out the next Monday morning departing at 8:30am, arriving in Managua at…9:30pm!!! Having already booked non refundable tickets for the family, I went ahead and booked the dogs.
2. Not understand the importance of the check-in time frame. – Must be 3 hours before flight (unless military), but for an early morning flight, no more than 3 hours
Kharron's brother, Kevin, graciously agreed to take the dogs for the couple days after we left and get them to the airport 3 hours prior to their flight. Yikes, that's early! It was set, problem solved. We boarded our plane on a red eye at 12:30 Saturday morning with a plan to spend a couple nights in Managua until the dogs came in, then go to stay at a friend's surf camp until we could move into our home in San Juan del Sur.
We woke up Monday morning excited that we would be seeing our pooches that night.  Kharron and his brother were texting that Kevin was on his way to the airport with his dad, Baylee, and everything was going as planned. Things turned bad quickly.  Once Kevin found the cargo area it quickly became clear that he had missed the 30 minute window between when the cargo department opened at 5am and 3 hours before the flight. Dogs were not going to fly that day.
3. Book dogs on their own flight arriving at night. – Managua will not allow animals to arrive after 5pm unaccompanied by a passenger.
Kevin had to make a new reservation for the following morning.  The dogs were going to need to spend the night in Houston (more money) so that they could be on the first flight out of Houston on Wednesday morning and arrive in Managua during the daytime.
4. Send someone who doesn't own a credit card to drop off the dogs at the airport. – United only takes credit cards, no cash allowed.
We decided to go to the surf camp anyway and Kharron could drive the 1 and a half hours back to Managua to pick them up on Wednesday. Again, Tuesday morning we were excited to get the process underway.  Kevin was on his way to the airport and targeted to arrive within the allotted window. Kharron was giving me the play-by-play as I chased Azalea around paradise.  Kevin and dad arrived on time…dogs are out of the truck…they are getting checked in…paperwork is missing…wait, no it isn't…  It was tense! My interpretation to the story is when Kevin pulled out the wad of cash we had wired him to pay with the ticketing office then told him they only took credit cards.  NO!!!
Let's do this again.  Dogs are booked for Thursday morning flight, staying in Houston, arriving on Friday.  We were quickly approaching the 10 day expiration date of the Certificate of Health the vet filled out and USDA stamped.  This was going to get really messy and expensive if we didn't manage to work this out by no later than a Friday arrival.
5. Didn't pay enough attention to recent changes in crate regulations. – I couldn't even tell you the rules. Allow yourself enough time to buy another one if needed.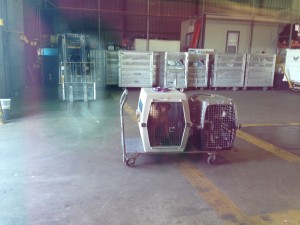 We called in for back up.  My friend Kelly recently became a stay at home mom.  She's fierce, smart, gorgeous, and owns a credit card…she was just the person for the job! We wake up Wednesday morning now with a feeling of doom.  Again, Kharron on his phone now with Kelly. Kharron's dad again there for support. Everything is going good. We are texted the above picture.  Dogs were on the dolly!  They must be in, all is clear… wait, no, there's a problem. Rigley's crate is too small and Tasha's doesn't have the correct bolts holding it together.  They are given one new crate and BayLee goes to another airline and is able to buy another crate.
Finally, dogs are cleared and the crowd goes wild!
I get this email a couple hours later and the stress pours out of me like frozen margaritas from a blender.